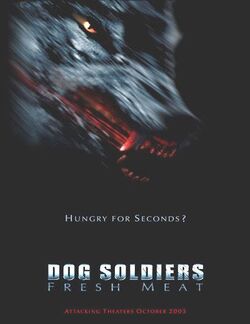 "
Hungry for seconds?
"

– The film's original tagline.

Dog Soldiers: Fresh Meat
was the planned sequel to
Dog Soldiers
. It was first announced in January 2004 by
David E. Allen
, who said it would begin shooting in either
Luxemberg
or Canada, with a budget of approximately £32 million
[1]
. The film was repeatedly pushed back, and
Neil Marshall
noted in a Blu-Ray commentary that a sequel is unlikely.
Production
Edit
Producer David E. Allen said in January 2004 that a sequel, Dog Soldiers: Fresh Meat, would begin a 35-day shoot that April in either Luxembourg or Canada with a budget of $5.5 million. Andy Armstrong, a second-unit director on films including Hellbound: Hellraiser II and Nightbreed, would direct from an Eric Miller script, with Allen and Brian Patrick O'Toole returning as producers. No casting was announced. Allen said the plot would involve Cooper being "picked up by an American team who, we find out, were the real opponents for the war games for Sgt. Wells' squad."[2] A year later, he elaborated that, "In the first film, it was a family who were the werewolves. In this one, it's an actual team of werewolves who are true military men. So even though they are now werewolves, they act like a trained military unit."[3]
In January 2005, Michael J. Bassett was in talks to direct, but by July 2006, Rob Green, who previously directed the horror film The Bunker, was set to direct and said he and Miller had written a story in which "Some of the characters actually love being a werewolf because they are so powerful – the ultimate killing machine … [I]t's a fun spin on the traditional angle that being a werewolf is a curse which damns the person the person no matter what. We also have a very savage she-wolf in the climax who faces against the leader of the pack of Dog Soldiers." Production was not set for autumn 2006.
IMDb reported that the film would involve an American squad discovering Cooper and thinking he killed his comrades, until night falls and more werewolves show up. Liam Cunningham was supposedly to reprise his role as Richard Ryan, and new characters included Sergeants Martinez and Walker.[4]
By December 21, 2008, however, information about the film had been removed from various web resources including the website of production company Kismet status.[5]
In 2015, a special Blu-Ray re-release of Dog Soldiers was released with a new commentary with Neil Marshall. In the commentary, he said that "I think I can fairly safely say that there's never going to be a sequel now," as the rights to the franchise no longer belong to him.[6]
Notes and references
Edit